Rolton K300 Portable Loud Speaker Voice Amplifier Wireless Megaphone Mic MP3 For Teacher Tour Guide
FREE GIFT
You will get a Multi-purpose Stainless Steel
SURVIVAL CARD TOOL (worth RM15)
Clear and loud sound
Brand: Rolton
Unique Colorful in shape and appearance, Light weight design. Material: Imported ABS and UV Technology
Rechargeable and replaceable 1200 mAh lithium 18650 battery. Standby time can lasts 18~22 hours, more than 12 hours of continuous use after a full charge
Professionally amplifying sound, loud, clear, low feedback. Comfortable and convenient for Teachers, Coaches, Tour Guides, Presentations ect.
Compatible with all media devices with 3.5mm AUX port as SPEAKER ; support TF Card (Not more than 32GB) MUSIC PLAYER, can directly play MP3,WMA,WAV format audio. FM stereo RADIO, auto-search and save radio stations. Additional 1200 mAh POWERBANK function
Specifications:
Basic function: Music-FM-Voice amplifier-Power Bank
Wireless:No
USB/TF Card: Yes
FM Radio:Yes
Repeat: Yes
Recording: No
Loop play back: Yes
Fast forward & Fast backward: Yes
AUX: Yes
Reverberation: Yes
Including Wall Charger: No
Material: ABS/UV
Output power: 5W Input Power: Power Adapter/USB/ Li-ion
Sensitivity: 80db
Distortion: 1%(3.7v,1Khz,1W)
Working Voltage: DC 3.7V
Charging voltage: DC 5.0V
Llithium Battery Capacity: 1200mAH
Impedance: 2 Ω
Display: LED
Speaker: 2.5 inch *1
Audio Format: MP3/WMA/WAV
Firmware Upgrade: Unavailable
Dimension: 86mm*39mm*117mm (W*D*H) Approx
Net Weight: About 249g
Package Contains :
1 x Rolton K300 Megaphone Portable Voice Amplifier Waist Band Clip Wire Mic Support FM Radio TF MP3 Speaker Powerbank for Tour Guides Teachers
1 x User manual
1 x USB Cable
1 x 1200mAh replaceable Battery
1 x Waistband Belt
1 x Professional Wired headset Microphone
1 x Additional Wireless headset Microphone
All the products are stored with paper to ensure that it is stored in a completely dry condition. This is to lengthen the life of the products and provide you the best quality products.
To improve your shopping experience, delivered are of best quality.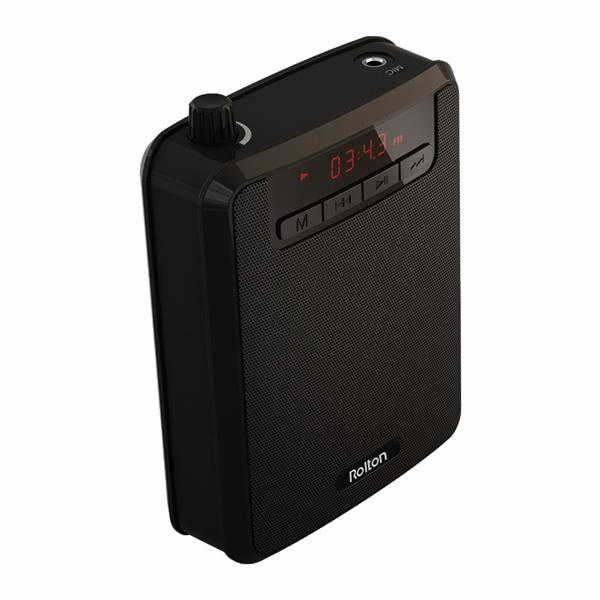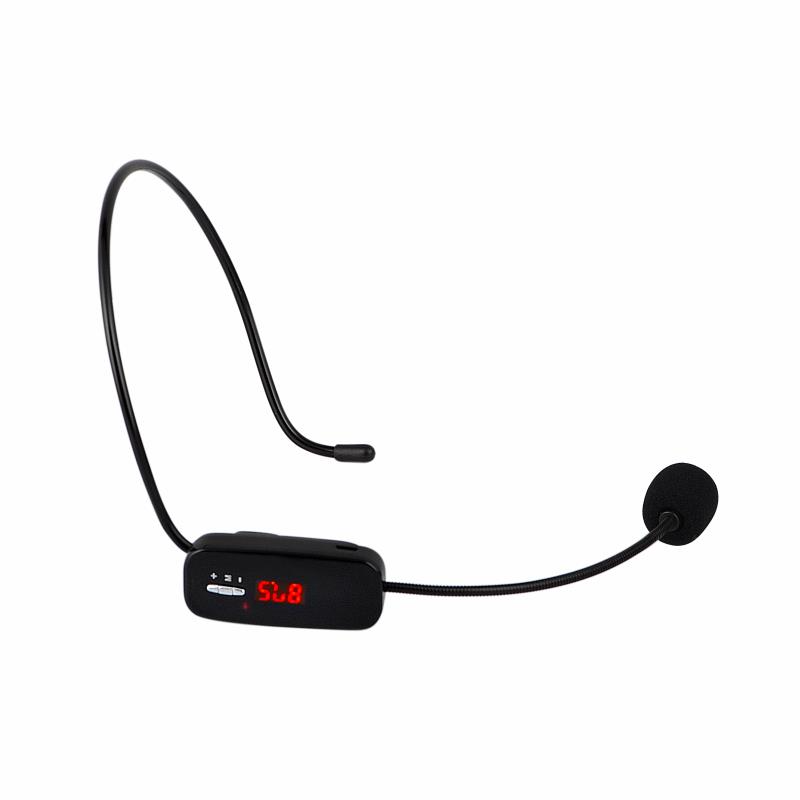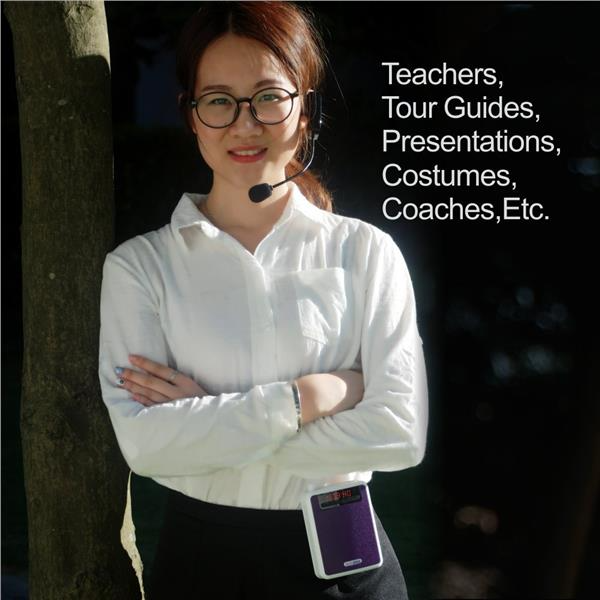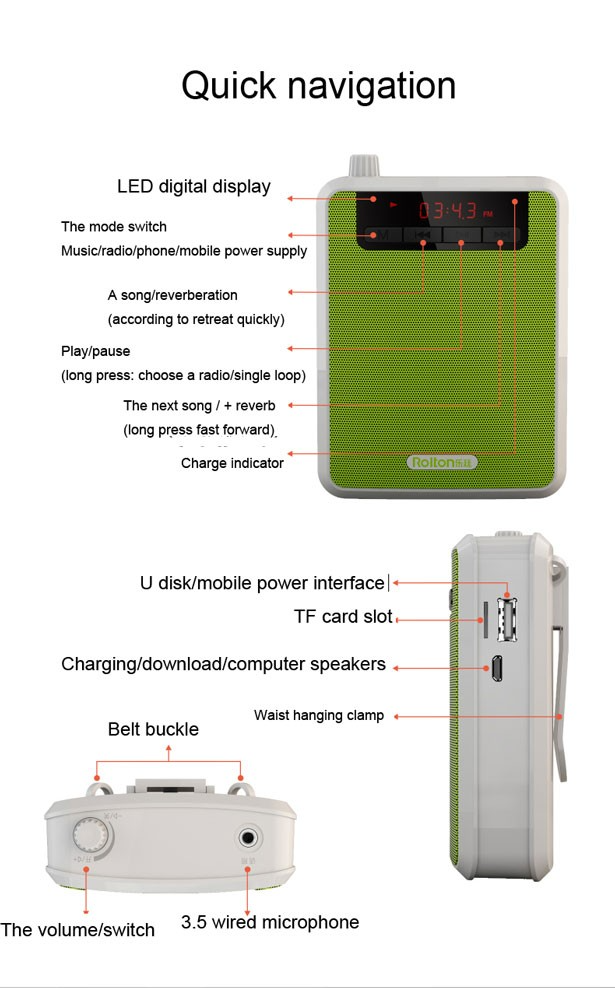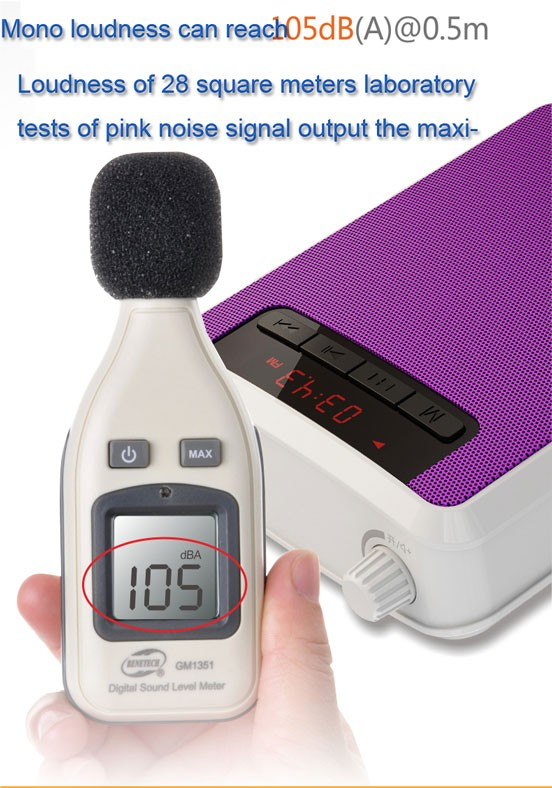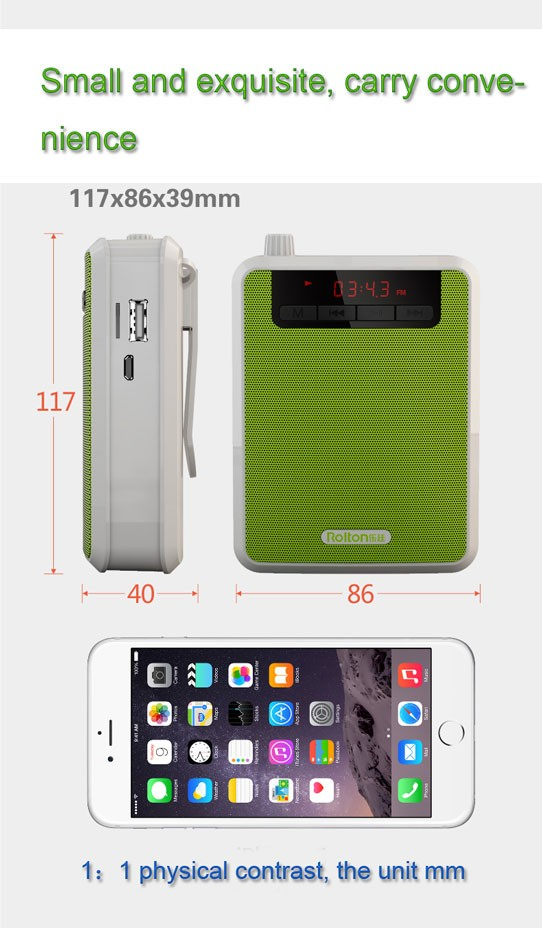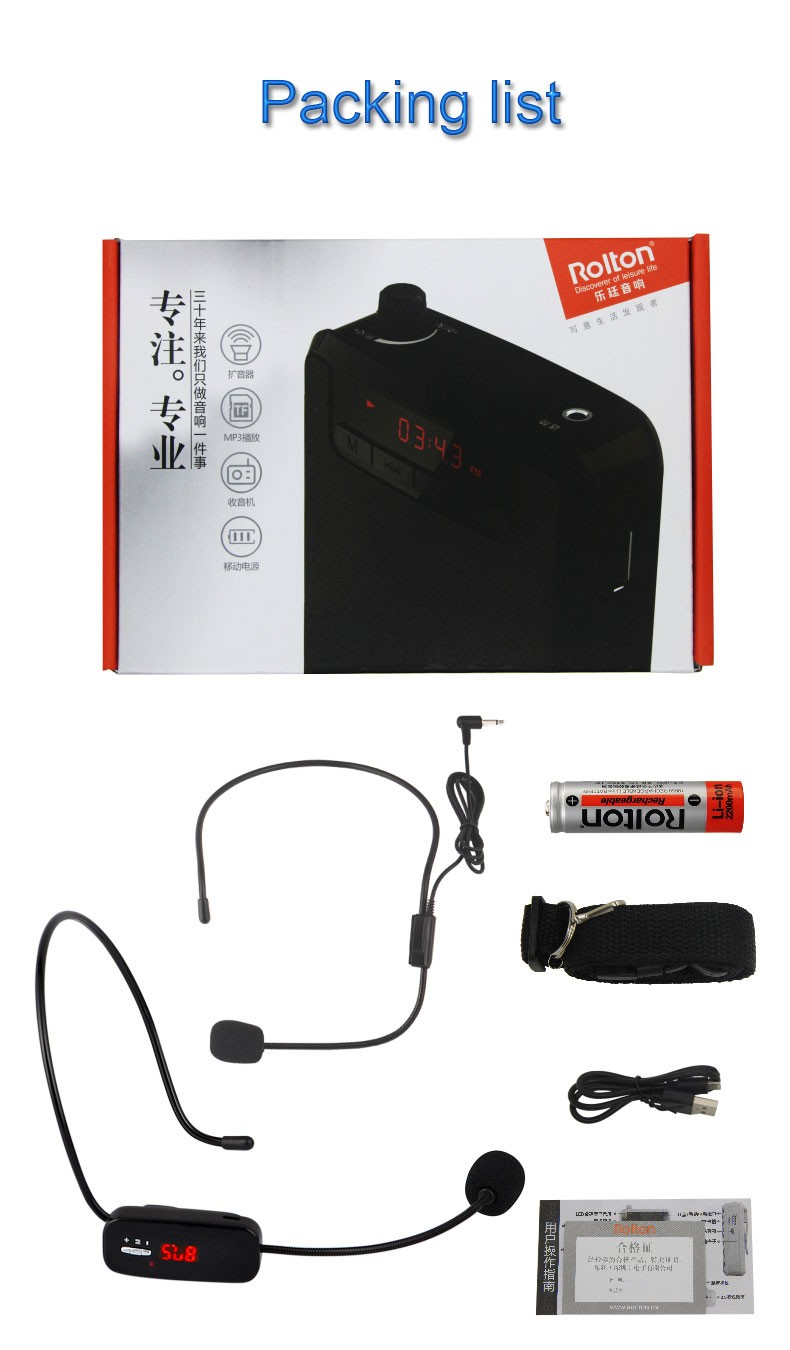 ---