61 Keys Roll-up Piano Portable Foldable Silicone Electronic Pad Kit Digital Keyboard Flexible Professional Practice
- HIGH QUALITY MATERIAL: This kids keyboard made of non-toxic environmental protection plastic, safe and very kid friendly, fine workmanship and smooth edge design, children will not hurt. Children could sing songs and telling stories with the microphone with more fun.
- MULTIFUNCTION: This roll out piano built-in speaker,delivers mellowing and crisp sound,also support external headset.128 kinds of tone, 100 beats, 40 Option Bonding.You can play any melody you wish,or recording function to play the music you play.
- PROFESIONAL PORTABLE KEYBOARD: This piano keyboard can foldable so you can carry it at anytime,anywhere. Travel, outdoor, at home, at school, you can play in any places you like. You can connect external headset while playing so as not to disturb others and enjoy music anytime and anywhere.
- EDUCATIONAL PIANO: It's a good educational piano for beginners. Kids can exercise hand-eye coordination, motor coordination, puzzle, rich imagination and emotions when playing it. It is a great gift to kids between 3 - 6 years old.
- SUPERB WORKMANSHIP:This Keyboard Play Mat Made of natural eco-friendly non-toxic soft silicone also has made the FCC product quality certification,This roll out piano built-in speaker,delivers mellowing and crisp sound.the thickened silicone keyboard, elegant body design, visual enjoyment, and comfortable touch feeling. All these perfect designs makes you fall in love with the keyboard.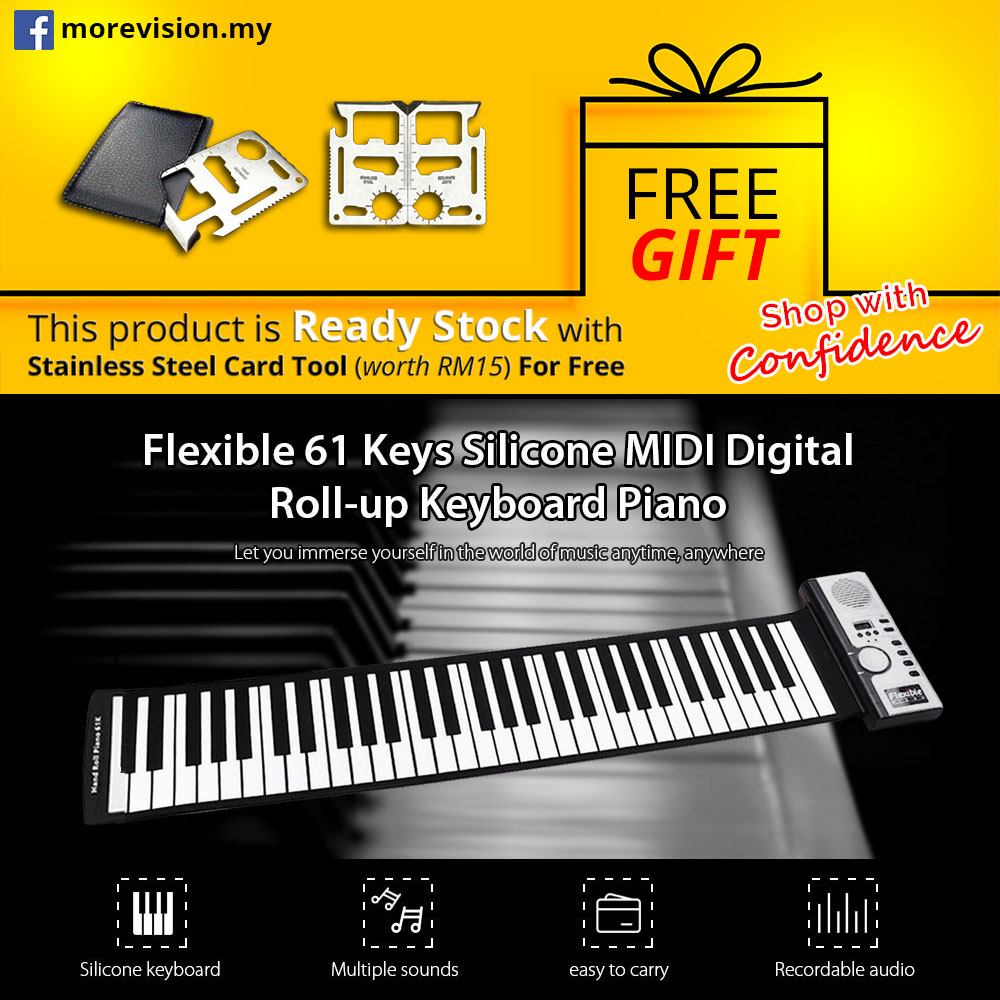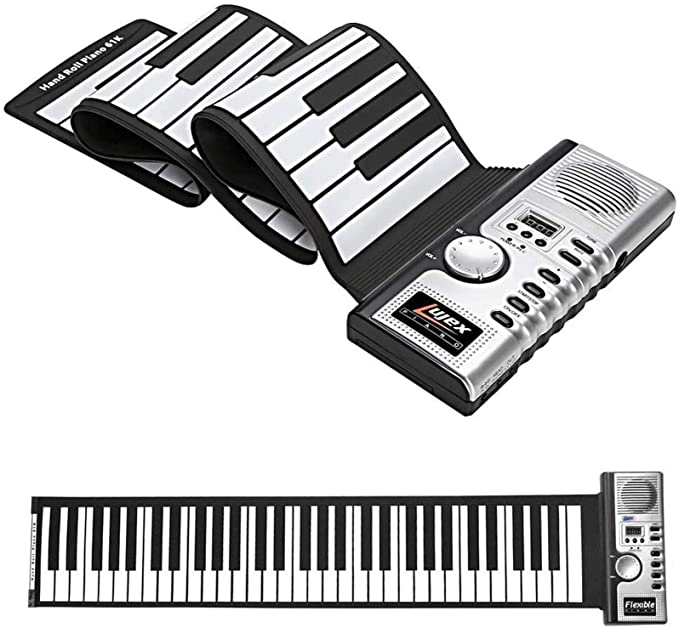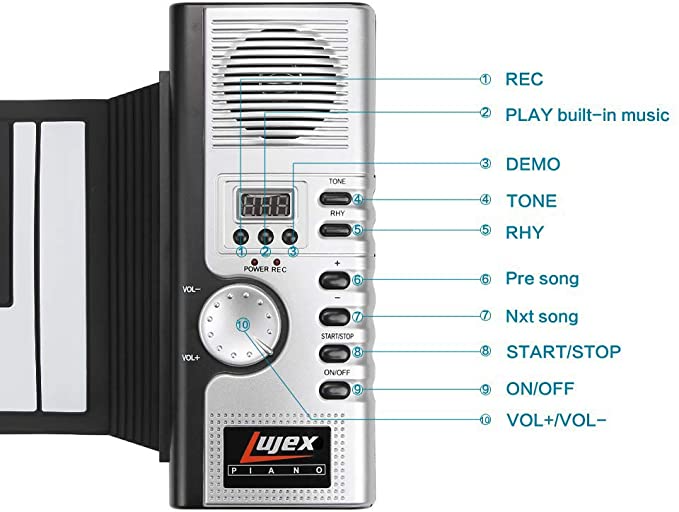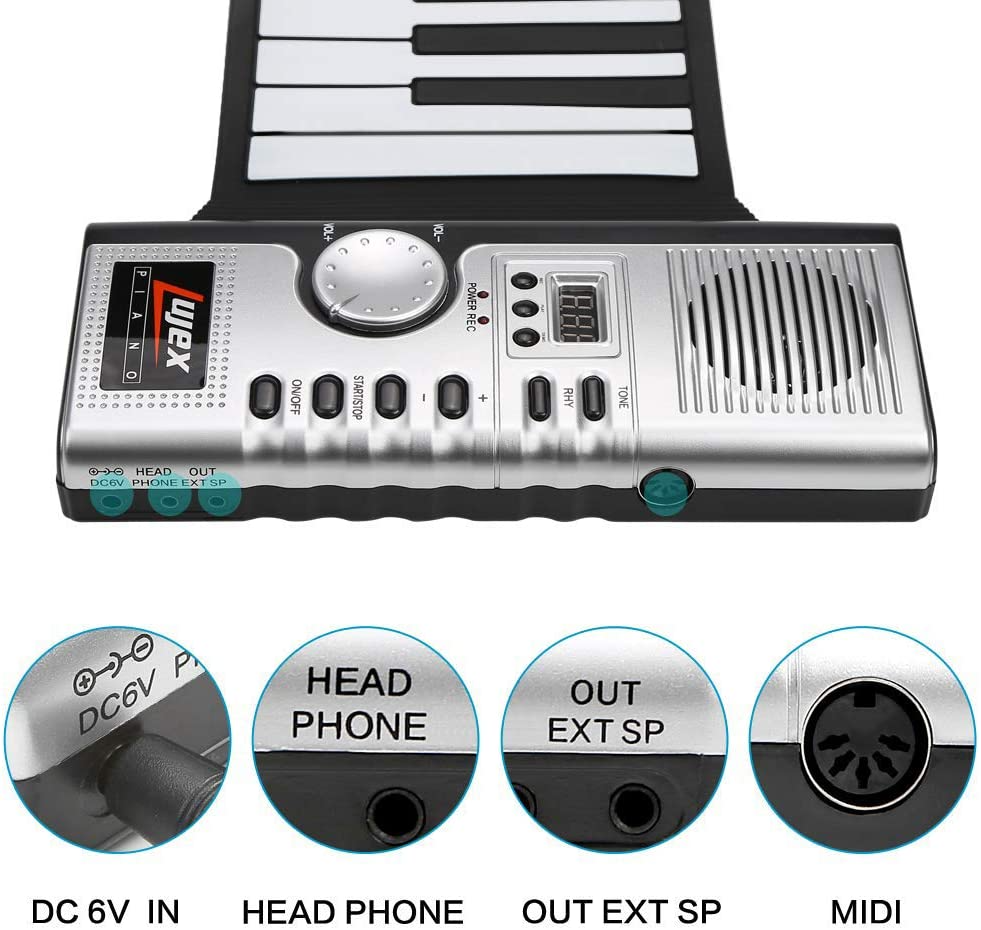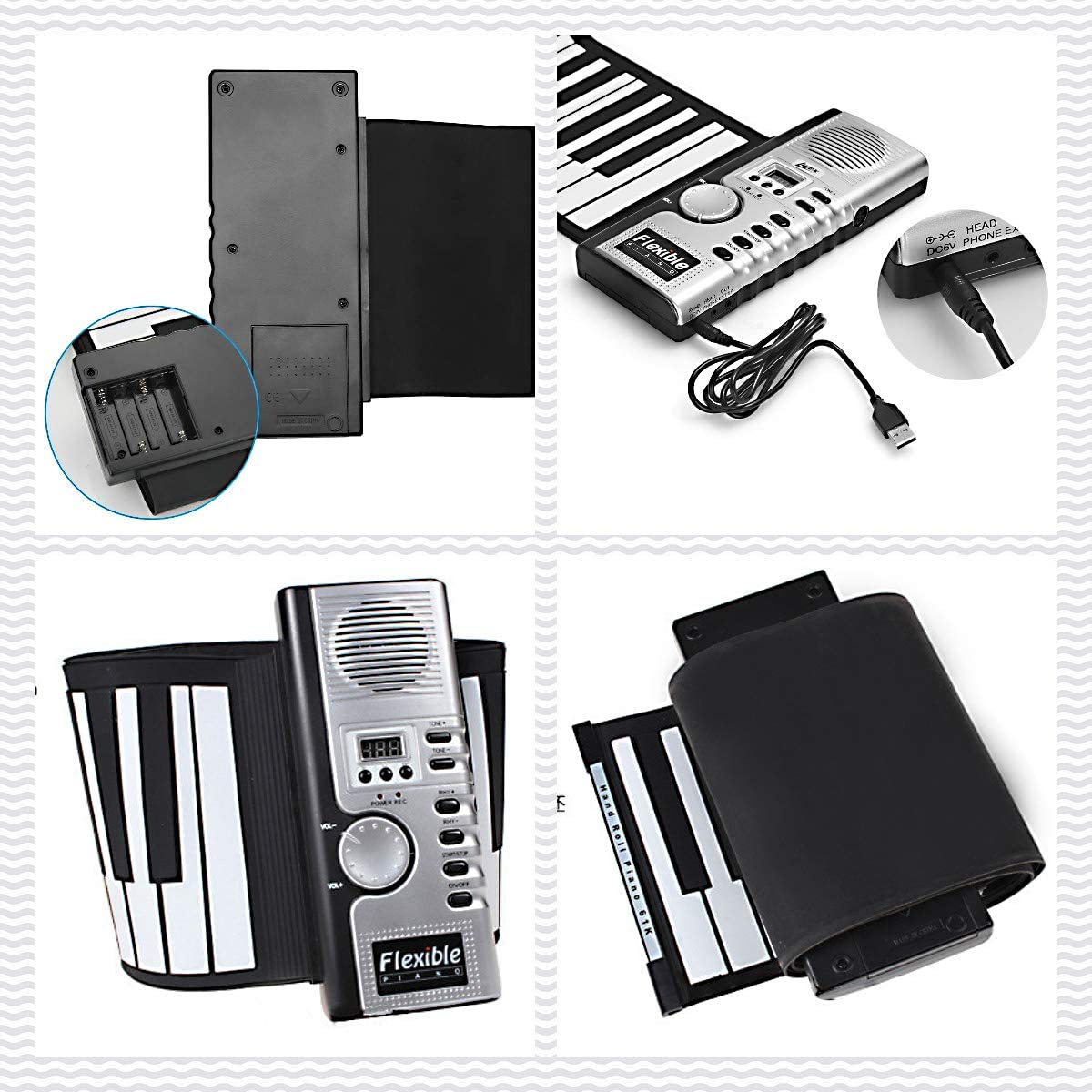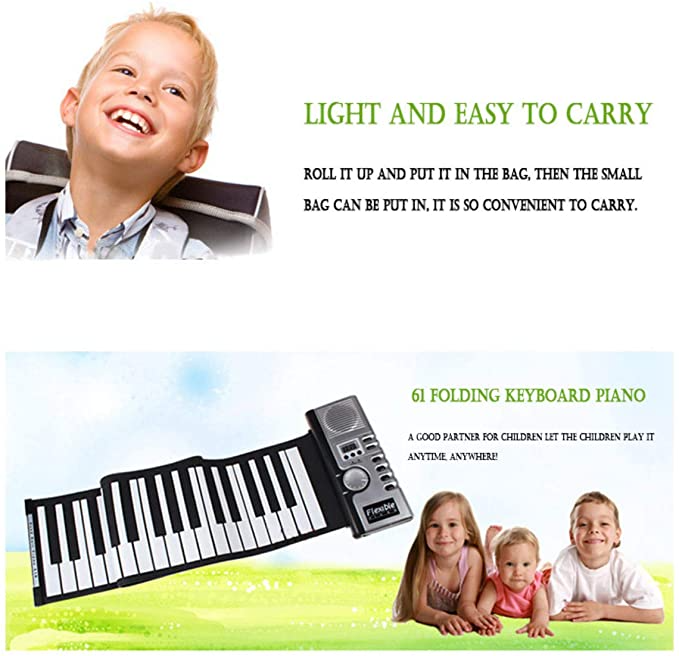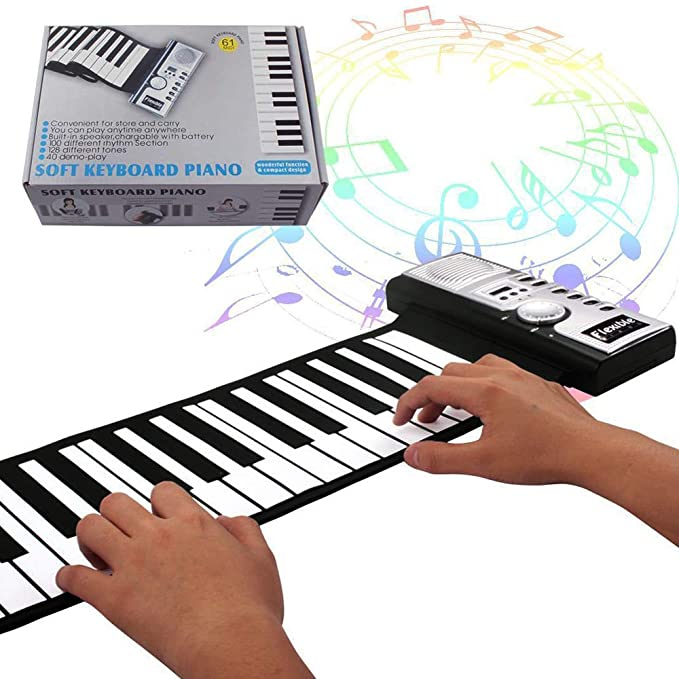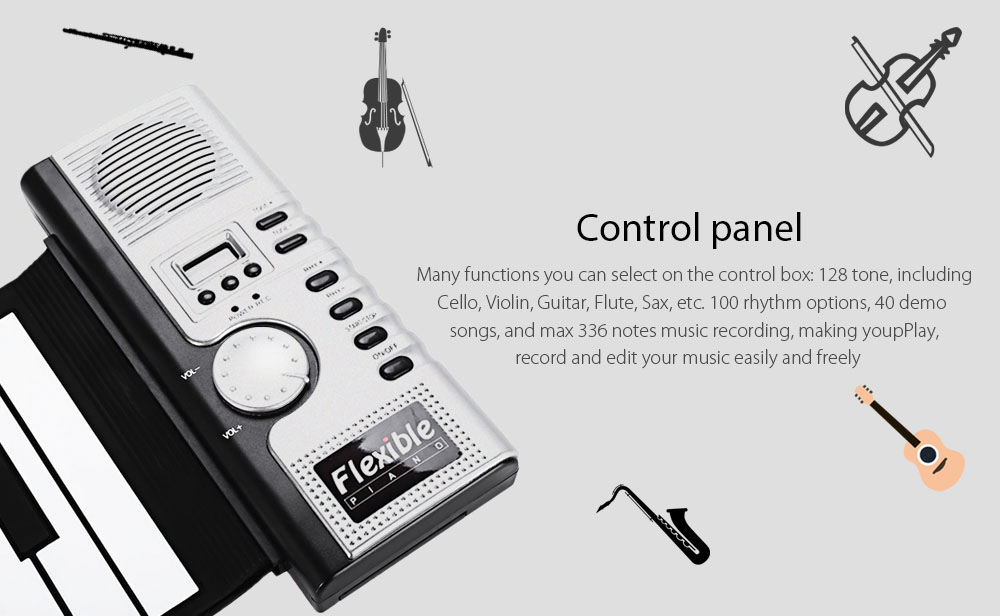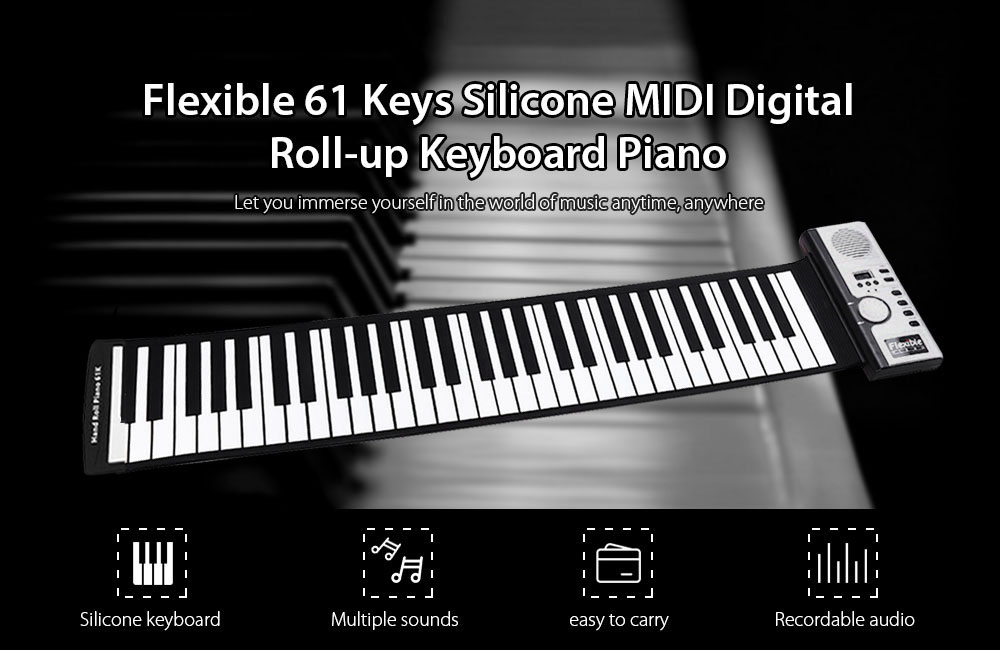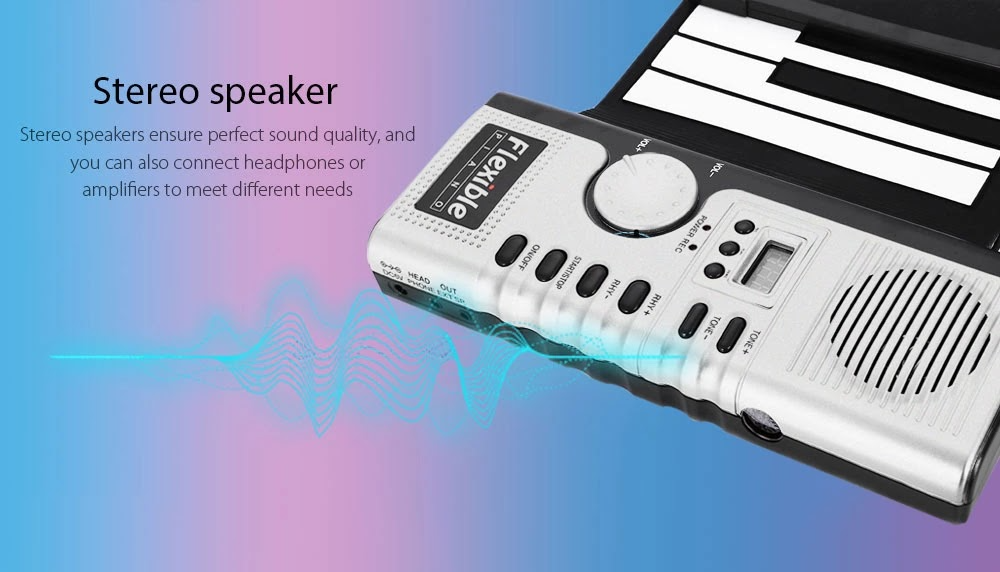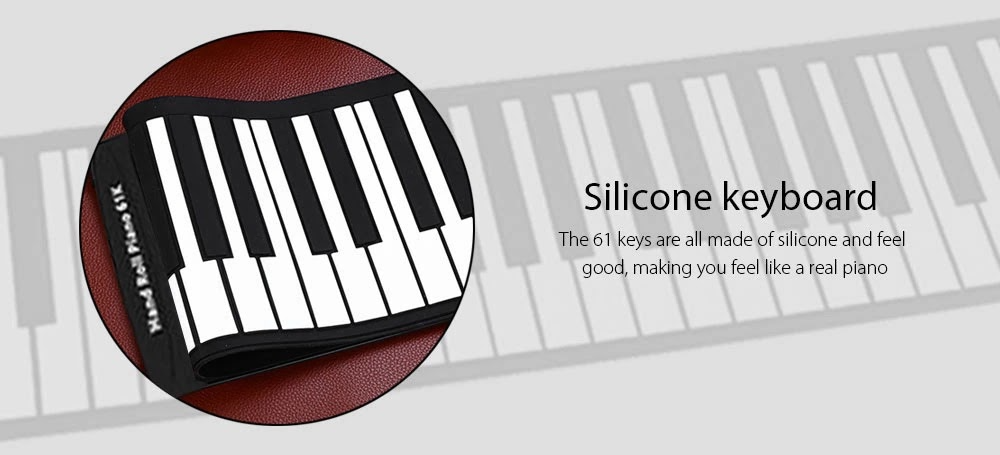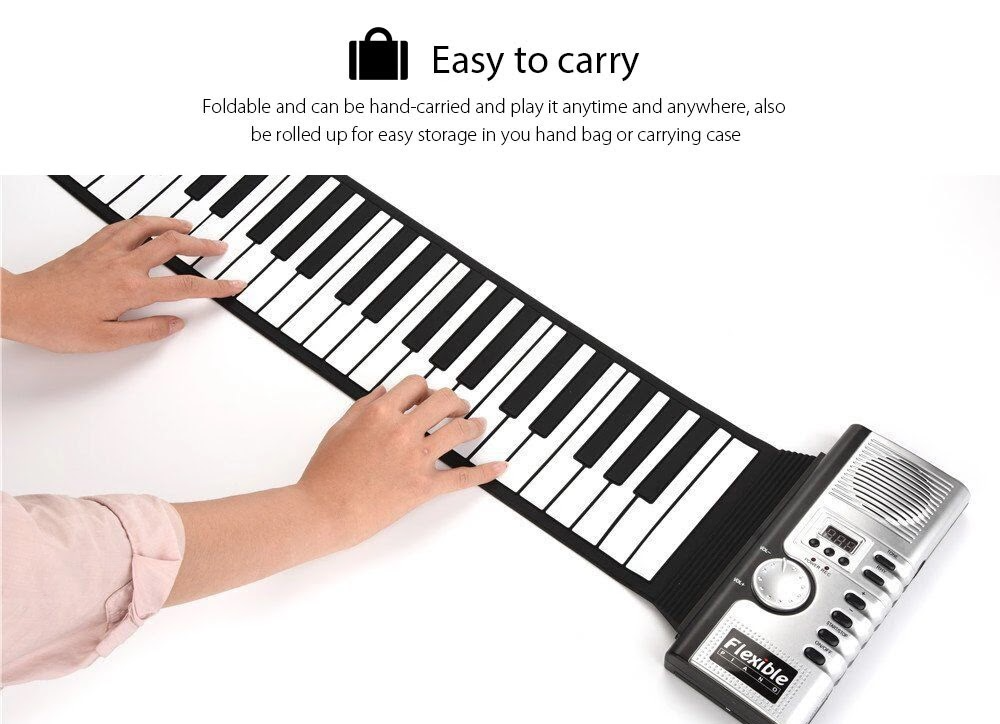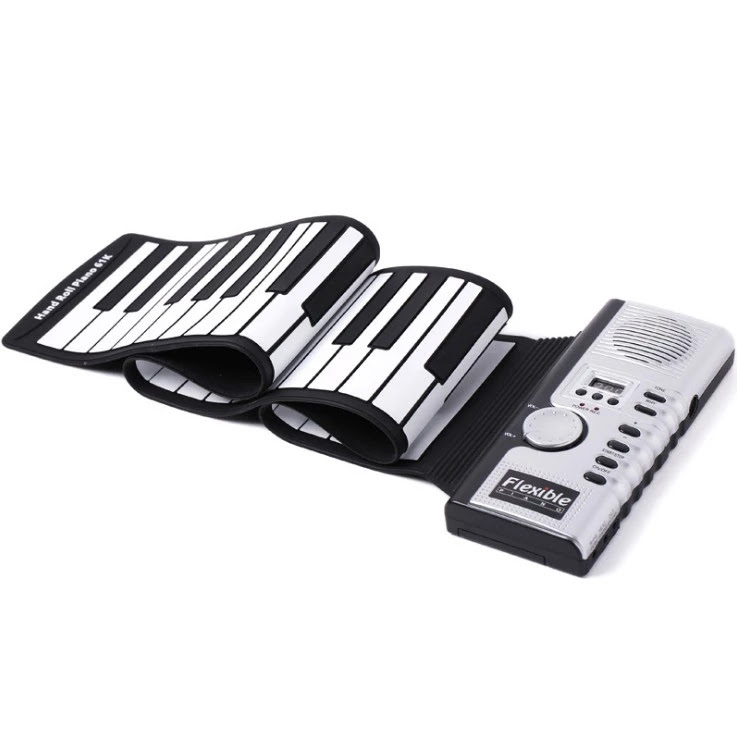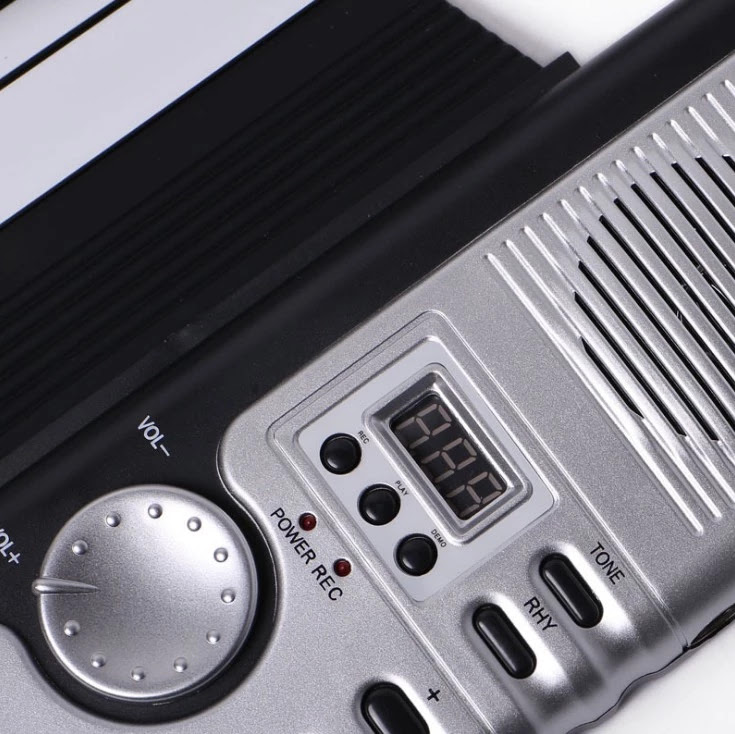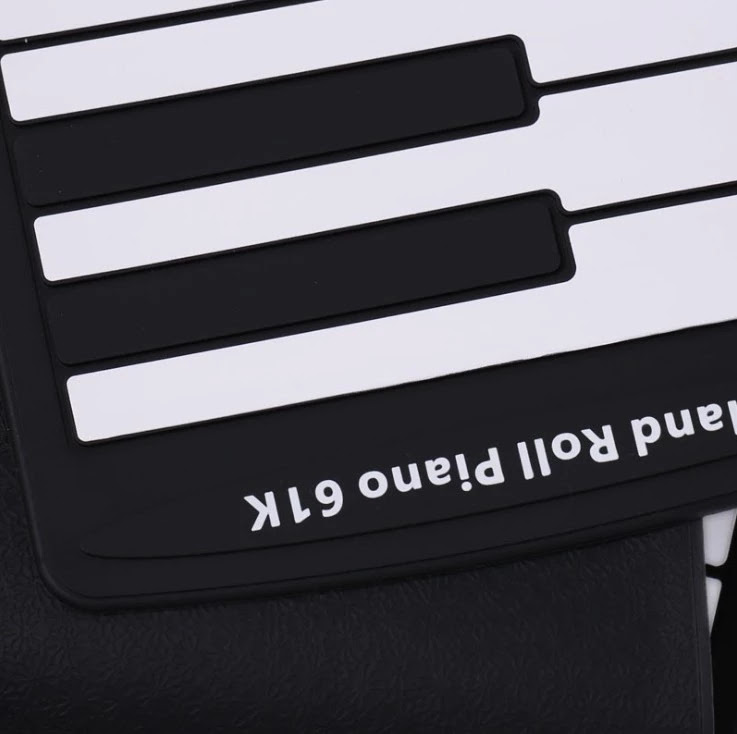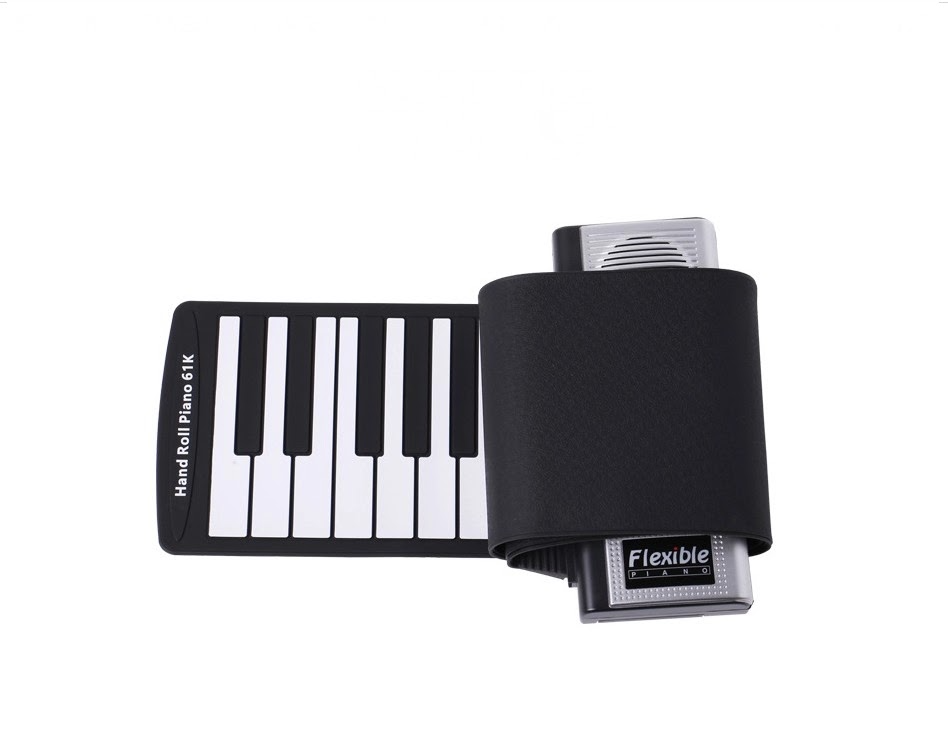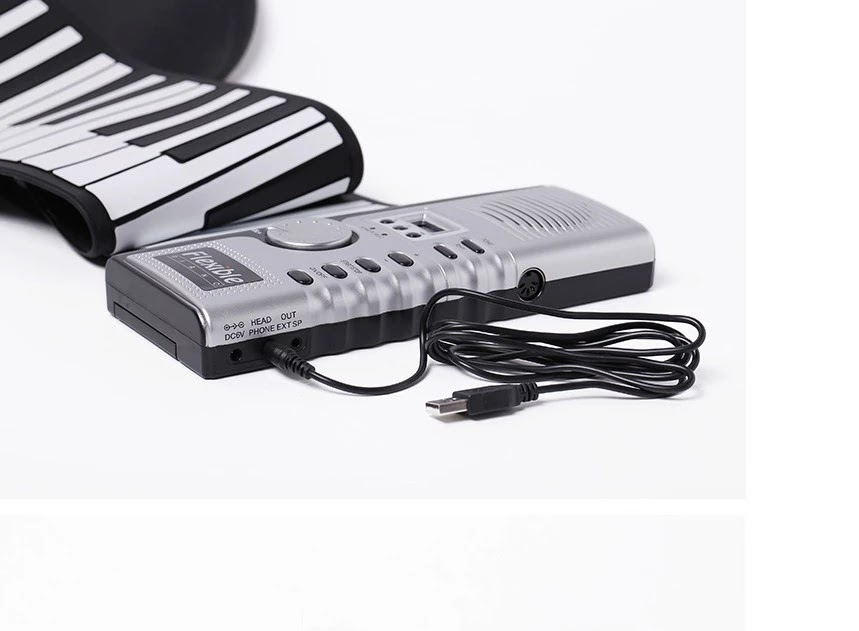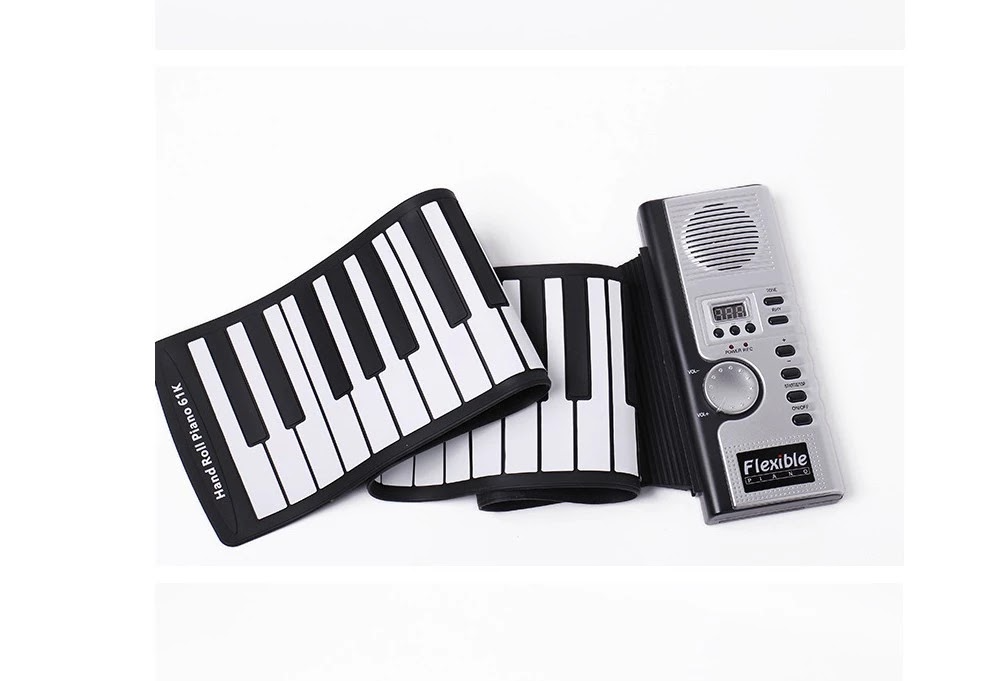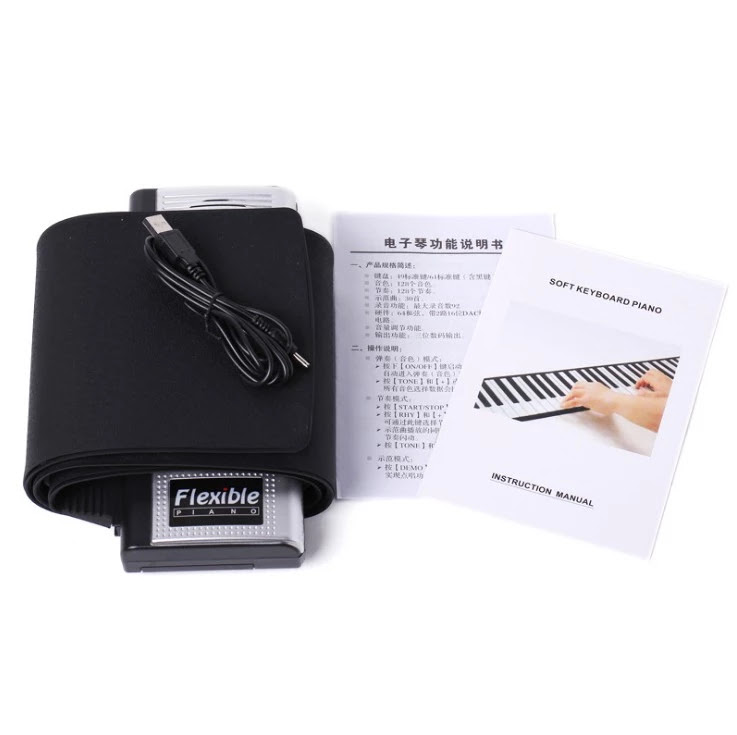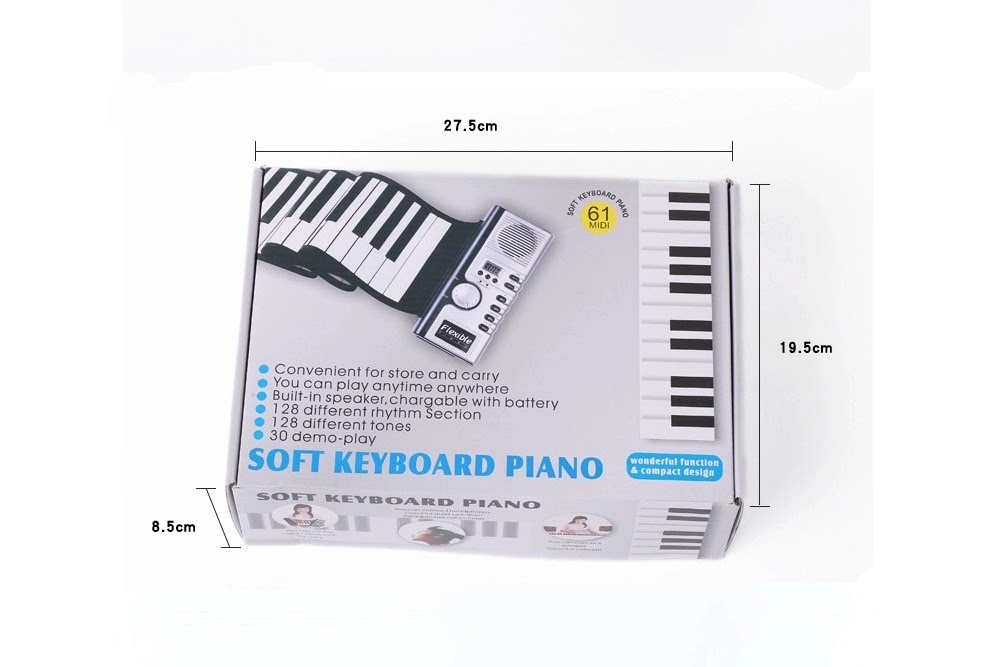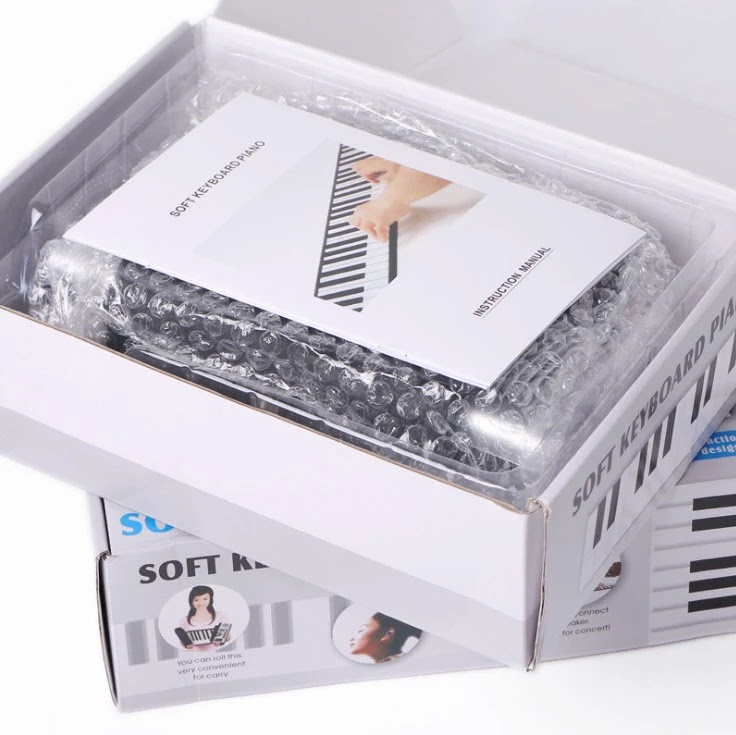 Function key description:
1.PLAY: Play the recorded music
2.REC: Record Key
3.DEMO: Demonstration key
4.TONE+: Tone selection key
5.TONE-: Tong selection key
6.RHY+: Beat selection key
7.RHY-: Beat selection key
8.START / STOP: Start/stop Demo song or Rhythm Key
9.ON / OFF: Power key
10.VOL+ / VOL-: Volume control bottom
11.DC 6V: DC jack connect (6V)
12.HEAD PHONE: Head phone jack
13.OUT EXT SP: Speaker jack
Product description:
1. 61Key (C2~C7) standard tone 5 tone group +1 key.
2. 128 kinds of tone, 100 beats, 40 Option Bonding.
3. LCD liquid crystal display.
4. Master volume control keys, beat, control keys.
5. Mode selection keys (tone, beat)
6. Recording, programming, play function.
7. Single finger and multi finger and Hyun Hyun.
8. Demonstration jukebox.
9. Pairs of keyboard functions.
10. Start / stop, sync, insert function keys.
11. MIDI function. Can be directly connected to the computer, playing the use of MIDI software,.
MIDI OUT connection line is required to edit music
12. 2 step teaching function.
13. Internal loudspeaker: can connect external audio / headset
14. Dimensions: 61 keys: control box (body): 230 (W) x 95 (H) x 31 (D) mm
Key: 880 (W) x 168 (H) x 6 (D) mm
15. Power supply: 4 AA batteries (approximately 15 hours of performance), or an external USB power supply. Power supply: DC6V. This piano can be powered by 4 AA batteries or DC 6V power supply (Note: Not to be used at the same time.)
---