360 LED Solar Light Waterproof For Outdoor Wide Area Garden Street Wall Lamp with PIR Motion Sensor 6 Modes Wireless
60 LED
60 LED Ultra Bright & Durable - 60 SMD2835 LED, 1300lm, much brighter than other similar 54 LED or 62 LED in market, low light failure, high colour rendering index, high luminous efficiency, narrow spectrum, good monochromaticity, environmentally friendly materials, without lead, mercury and other toxic substances.
Powerful Solar Panel & Batteries - Big solar panel size: 20cm*10cm, and up to 18.2% solar transfer efficiency, which charge much faster; 1* Lithium iron phosphate batteries, 6600MAH, which use longer than others'. Top performance in current market.
Hamanized Design with Remote Control - Considering the truly deep needs of our dearest customer, we equip it with a remote control (Range:120°,Distance:5-7m).
Super Performance - High quality material of heatproof ABS + PC plastic steel + Anti-UV, high waterproof rate of IP65, easy to install, perfect outdoor security lighting.
Suitable For Outdoor - Waterproof IP65, outdoor lighting available.
Sensitive To Motion
1.PIR Motion sensor, technical intelligence, humanized solution;
2.Updated sensor ball head, longer sensor length and sensing angle.
Easy To Set Up
1.Wireless installation, no wire shortage possibility;
2.Prepared auxiliary punch card to help installation.
Product parameters:
Solar panels: 5.5V, 3.2W laminated PET, 18.2% efficiency
Lithium battery: 1* lithium iron phosphate battery, 3.7V, 6600MAH
Luminous flux: 1300 lumens
Output power: 3.2V, 11W
Lighting range: 50-80㎡
Sensing distance: 16-33 feet
Sensing angle: 120 degrees
Remote distance: 16-23 feet
Remote angle: 120 degrees
Recommended install height: 6 - 11 feet
LED: 60 LEDs, white light, Warm White Light (Yellowish)
Waterproof: IP65
Size: 220 * 150 * 110mm
Weight: 600g
---
360 LED
360 LED Super Bright Solar Light - Solar lights outdoor equipped with 360 super bright LED beads, Solar motion senaor lights outdoor provides excellent illumination of up to 2000 lumens, Our solar sensor lights which is far brighter than other similar LED solar lights.
12000 mAh Large Capacity Battery - Built-in 12000 mAh rechargeable battery, it provide 40 hours hight brightness continuous lighting with full charged(1.5-2 days), it is far ahead others 4000mAh solar light.
3 Brightness and 6 Modes - It has 3 brightness: white light, warm light and neutral light. 6 optional modes: ①High light when motion detected, dim light after 15-45 s. ②High light when motion detected, turns off after 15-45 s. ③ Always high light 3 hours, then switch to mode 2. ④ Always high light 5 hours, then switch to mode 2. ⑤Always high light 8 hours, then switch to mode 2. ⑥Always light when power ≥50%, Switch to mode 2 when power ≤50%.
IP65 Waterproof - Our solar lights outdoor Made of durable ABS material, you don't need to worry about use in the rain. Solar motion sensor lights can also withstand all kinds of severe weather conditions, It is water resistant, heat-resistant and frost resistant, It can withstand rain and other extreme weather conditions.
Motion Sensor is More Sensitive - Easily illuminate 200 square meters in the installation area at night, Built-in PIR motion sensor of our solar lights outdoor can detect up to 120 degree with a longer sensor length of 26 feet thus solar sensor lights provides a broader range of lighting.
Descripion:
Name: 360 LED solar light
LED Quantity: 360 LED
Battery: 12000 mAh/ 3.2v
Brightness: cold, warm, neutral
Lighting Modes: 6
Luminous Flux: max 2000 LM
Waterproof: IP65
Solar Panel: 5v/ 1000ma/ 5w
Sensor Angle: 120°
Note:
Need to pull out the plug of the controller.

Constant light mode only works in darkness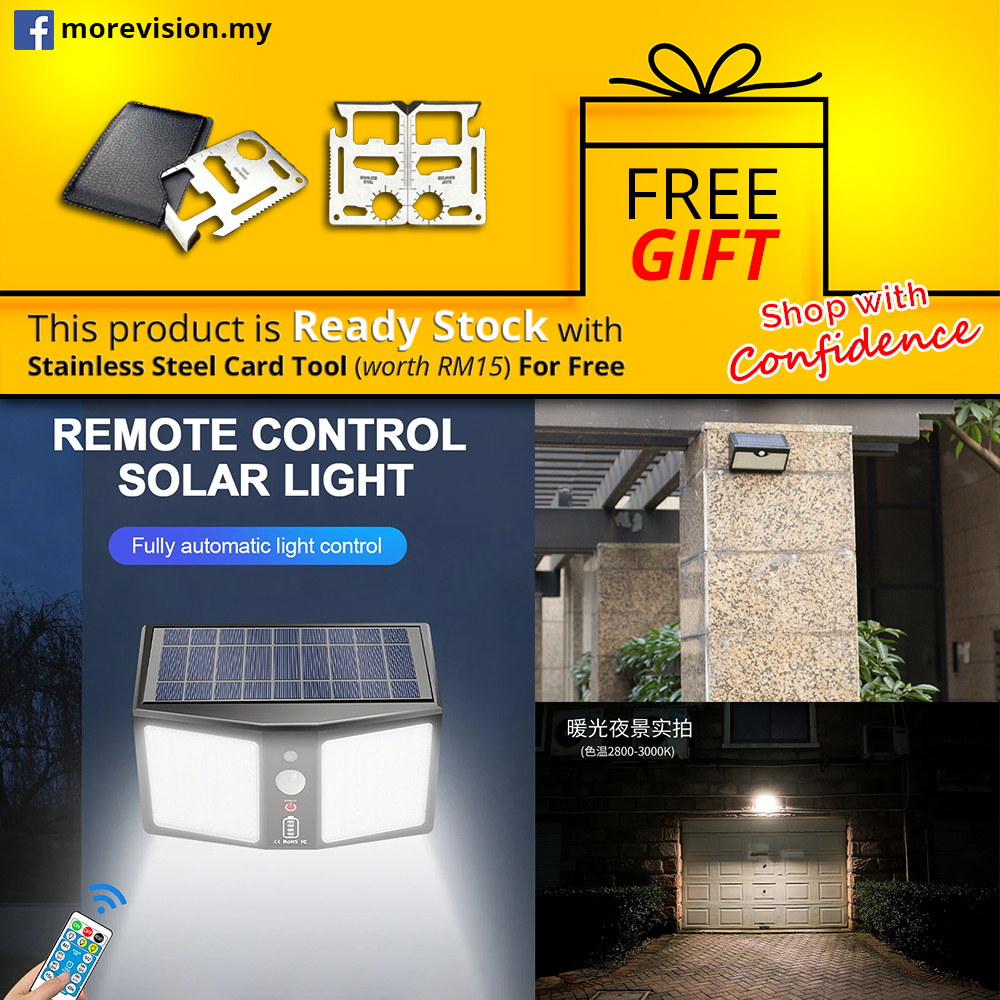 ---